The Lakeview Center is a two-story building on beautiful Lake Tomahawk. The area around Lake Tomahawk includes a 1/2-mile walking path, plenty of fishing hot spots, a playground for the kids, tennis courts, and a recently renovated pool.
Both the upstairs & downstairs are available for rent and are a popular location for weddings, reunions, and parties. To reserve, simply call 828-669-2052. If you have questions about a program or would like to receive our monthly newsletter, call (828) 669-8610.
=========================================================
Lakeview Center Activities - Not for Seniors Only!
This community center is a place full of opportunities and growth for those who are 50+ and hosts a variety of activities for both seniors and the general community. Some of our activities are monthly Van Clans to different places of interest in WNC; weekly hiking trips; various types of games (canasta, mahjong, duplicate bridge); exercise options (Square dancing, aerobics, yoga. Tai Chi and chair exercise) and more! Check out the calendar for all the details. (Click the calendar icon at the bottom of the page.)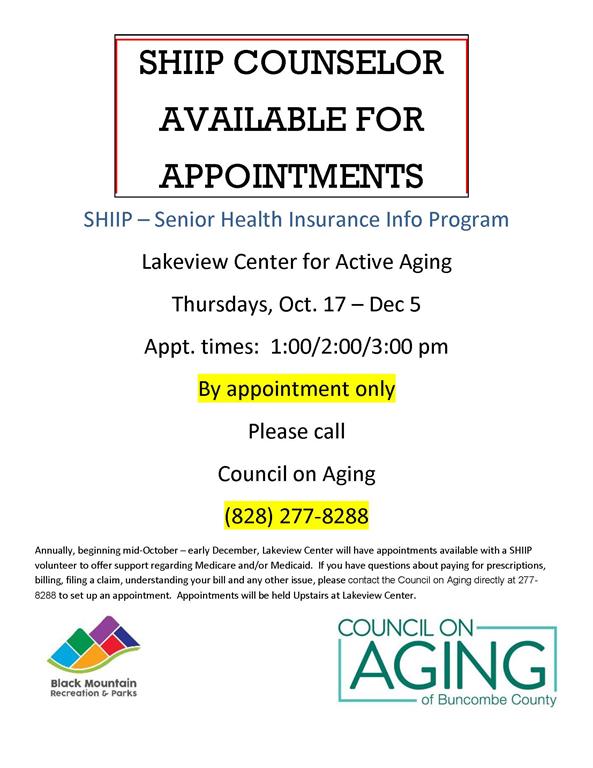 There are no major trips planned at this time.
To see the 2019 schedules, click on the link below.
Reminders:
Payment is required at time of sign up in order to reserve your seat.
Payments are non refundable unless we are able to fill your seat.
Some trips require more walking or other physical requirements than others. Please plan accordingly prior to signing up.
We will refund payments and cancel trips for bad weather and/or less than minimal (5 typ.) sign ups otherwise payment is non refundable but transferable.
Seats are limited. Sign up early and have a great time!
=========================================================

The Lakeview Center offers a hot catered meal each week day and is open from 10:00 to 2:00. This is a great opportunity
for seniors to get out and meet new folks in the area, socialize, and enjoy a great meal! These meals are available to seniors 60+. Free Chair Exercise is offered on Tuesdays at 11, and, always popular Bingo on Thursdays. Monday at 11 join us for our Snack & Learns. See newsletter for topics/dates.
Where:
401 Laurel Circle Drive
When: Monday through Friday 10AM-2PM, lunch served at noon
*Please call Trevia Rhodes at (828) 669-2035 with questions, reservations, or to make transportation arrangements.
If you have any questions, please call (828) 669-8610